The following post by Wayne Ford can also be found on Wayne's Posterous blog here.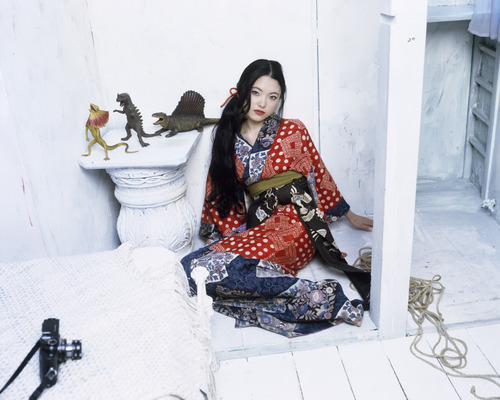 In the mid-1960s, Japanese photographer Nobuyoshi Araki began documenting his young wife through a highly personal and intimate series of photographs titled, My Wife Yoko (1967-1976), this expansive body of work is now considered one of the photographers most significant, and would lead to the self-publication of the now seminal volume, Sentimental Journey (1971), the first of over 350 books since published by the prolific and at times controversial artist.
Crucially this work also marked a critical juncture in the development of 'personal photography' in Japan, in which the photographer and subject are inextricably linked, leading Araki to remark, 'If I didn't have photography I'd have absolutely nothing. My life is all about photography, and so life is itself photography.'
Post-war Japan was a particularly fertile period for photography, where a generation of photographers responded to social upheaval by creating a new visual language dubbed 'Are, Bure, Boke' (rough, blurred, and out of focus), and it is against this backdrop that Araki grew up. Writing in the accompanying catalogue to All Women Are Beautiful — an exhibition of twenty-two photographs at Galerie Steph in Singapore — art historian Charles Merewether, suggests that in particular, both Takuma Nakahira and Daido Moriyama and the group around the magazine Provoke — which sought to break the rules of traditional photography  — were of critical importance in influencing the young Araki, 'because of their visceral engagement with their subject matter, especially the subject of the street and the expressive character of individual lives.'
'A photographer looks at everything, which is why he must look from beginning to end. Face the subject head-on, stare fixedly, turn the entire body into an eye and face the world,' comments Shomei Tomatsu, one of the most influential photographers of the Provoke era. We can see this sentiment reflected in the work of Araki, whose oeuvre is wide and varied, stretching from his celebrated street photography, through still-life, to his female nudes, portraits, and his ongoing series featuring women in Kinbaku — a traditional form of bondage, which utilises an intricate series of knots each leaving a distinct pattern on the skin — a body of work for which he is possibly best known.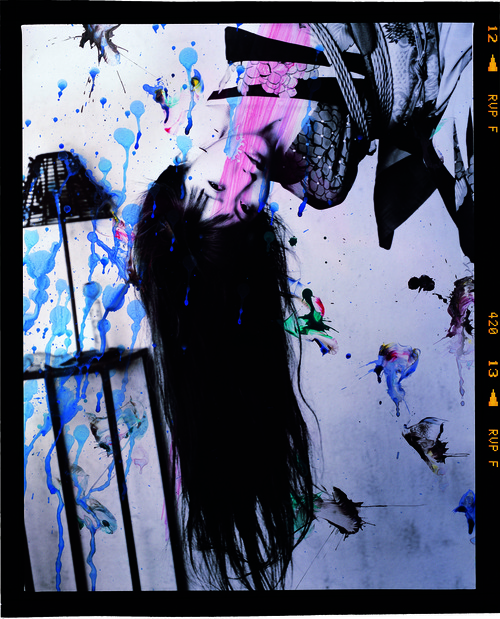 'Women now queue around the block outside Araki's home just to be photographed, but his personal preference remains with the average, everyday woman,' says Stephanie Tham, director of Galerie Steph. 'I think he feels a bit more empathy with housewives because they are more pedestrian and simple, and he manages to make them look beautiful.'
Within a minimal white interior, a young woman dressed in a vibrant red and blue kimono sits on the floor, her long dark hair tied with a small red ribbon, and her gaze firmly fixed on the photographer. To her side, three plastic dinosaurs stand on a small table— a motif frequently encountered in Araki's work — and the only other colour in the composition, at her feet we encounter a tangle of suggestive rope, and in the foreground we see Araki's Leica. What we are experiencing in this beautiful photograph, is what the art critic Adrian Searle refers to as a 'complicit menage-a-trois of photographer, model and camera, a kind of ritualised theatre of objectification.'
From the initial photographs of his wife, women have formed a subject at the very core of Araki's artistic output, he 'has developed a continuous exploration of women in the privacy of their own home and in his city Tokyo,' writes Merewether. 'He has rarely made photographs outside of Tokyo. They are neither photographs of the street nor of bars or public places yet, nonetheless, they are what Araki often refers to as "my Tokyo." The photographs are about individual woman, their bodies, their exposure to another, to the outside. Often they occur as a result of requests from the women themselves. These photographs are neither pornographic nor sexual. Rather, they are intimate portraits and one can feel a kind of intoxication that comes from this contact.'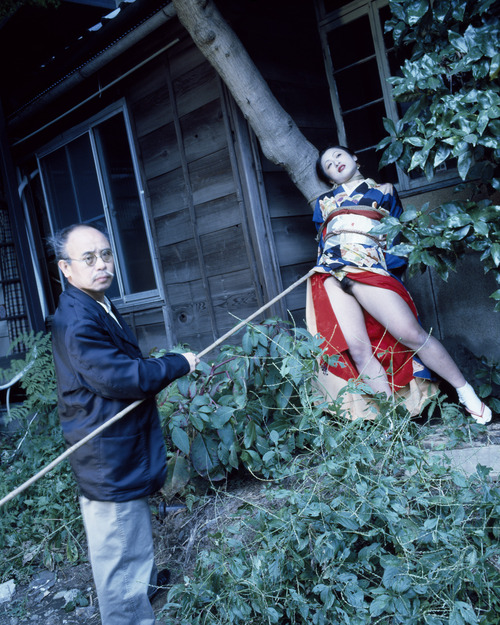 In his series of Lewd Paintings, Araki marks the surface of the photographic images with bold swashes of opaque colour, and inscribes them with kanji. We encounter a woman leaning against a wall, her arms tightly bound behind her back, the black ropes criss-crossing her chest, once again her gaze is fixed firmly on the photographers lens, with her kimono falling away to reveal her naked form. Around this black-and-white portrait, are daubs and layers of yellow, red, and aqua, heightening the tension within the image. In another image from the series, a woman lies naked on a bed, strong leather straps restrain her torso, whilst ropes bind her ankles, one hand is raised creating a haunting shadow on the wall, above her, occupying half of the composition is a dense mass of calligraphy, whilst below a wave of blues and mauves wash over her body.
'Women? Well, they are gods. They will always fascinate me,' says Araki, who frequently appears in his own photographs. In one such image, we see a beautiful young woman bound to the trunk of a tree, her vibrant blue and red kimono the only real colour in a sea of monchrome hues. To the left of the photographic frame, Araki stands making direct eye contact with the viewer, in his right hand he holds a pole with which he lifts the woman's kimono revealing a dark waft of pubic hair.
In Araki's photographs we experience what Searle refers to as 'an injunction to make more of the things in life that matter; love of life and its complexity most of all, in the knowledge that one day it will all end.'
– Wayne Ford