To me, There is something out of sorts about the scenes in Larry 
Sultan's 'The Valley'. And it is not the naked house guests or their crew 
members that are lighting, filming, resting, and sweating around the 
porn scenes.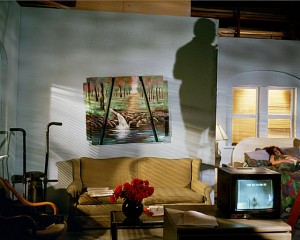 Instead it is the homes and artifacts within them that seem out of 
place. The choice of art hanging on the wall and furnishings dressing 
the home all come under a new scrutiny when juxtaposed with the
 writhing bodies of many fantasies now occupying 'family spaces'. I wonder, like Sultan, whether the 
real fantasy taking place here is that of the perfect American home.

 Each one we enter has a similar, slightly sterile feel. We see the
 pools, gazebos, patios, large sofas and TV's that appear on the
 quintessential 'dream home checklist' but not much else.
The addition of fictitious backdrops in gardens and living rooms creates a feeling that the each house is just part of an elaborate set for the filming of real-life.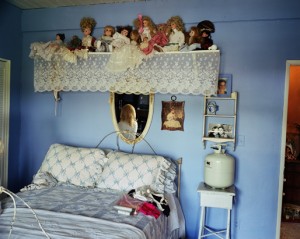 The
 personality Sultan does show us of these homes seems tired, the girls 
bedroom with neglected dolls now sitting on a shelf, a drum kit
 gathering dust and a bed with no sheets that has certainly seen better
days. It is these rooms, kept out of view of the directors camera but picked up by Sultan's that offer a melancholy feel to the viewing experience of the book. It reminds us of all the dreams and items once cherished as well as that which would be deemed unpleasant to others that are now gathering dust, or else pushed aside from the gaze of any possible visitors in so many homes.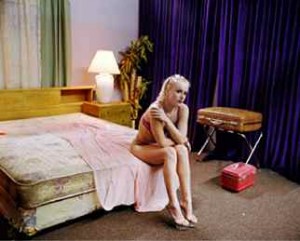 These are not the locations chosen by the director, and neither are
they chosen to be displayed by the home owner. Both the director and
home owner want to show the same thing, a representation of success,
and of a fantasy, but without any personal effects or clutter that
would tarnish the 'scene'.
– Matt Johnston