A great resource for those interested in the original words that accompanied 'The Valley' as it was first exhibited at the San Francisco Museum of Modern Art.
The interview with Terri Whitlock which was included in the catalogue will be posted separately.

Text owned by SFMoMA and Larry Sultan, found via The Traditional Fine Arts Association
Images added for illustration, ©LARRY SULTAN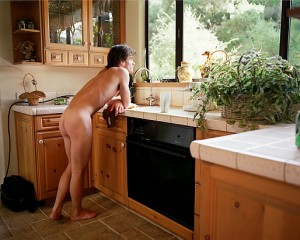 The San Francisco Museum of Modern Art (SFMOMA) presents Larry Sultan: The Valley, an exhibition of photographs by Bay Area artist Larry Sultan that looks at the transformation of middle-class suburban homes into stage sets for adult films.
Organized by SFMOMA Senior Curator of Photography Sandra S. Phillips, the exhibition will be on view May 8 through August 1, 2004. A fully illustrated catalogue of the series The Valley will be produced by Scalo Press to coincide with the exhibition.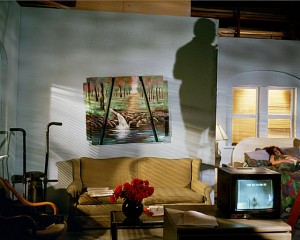 Featuring fifty-three large-scale, color photographs taken since 1999, The Valley engages many of the themes found in Sultan's earlier project, Pictures from Home, which was, in part, a photographic investigation into the meaning of home and family. Along these lines, The Valley examines why the ideal of middle-class domesticity lends itself to a most curious form of appropriation-use as a setting for pornographic films. The project also questions the notion of photographic truth, a popular subject of inquiry for contemporary artists.
On recent excursions to the San Fernando Valley, Sultan noticed that ordinary houses in the vicinity were being rented for a few days at a time to be used as sets for adult films. Fascinated by this practice, Sultan undertook his current work not as a meditation on the morality or a sociology of pornography, but as an investigation into what home, work, domesticity, and suburbia mean when used as charged, symbolic backdrops for adult films. Sultan's complex photographs negotiate the boundary between fiction and truth-they take advantage of the seductive cinematic lighting, yet they also divulge the frayed edges of the set and the boredom behind theatrical personas. In Suburban Street in Studio, a familiar looking street of suburban homes is revealed to be nothing more than a painted stage set. In West Valley #11, Sultan focuses on an exterior wall with a grid of small openings, one of which offers a revealing peek at a reclining woman within.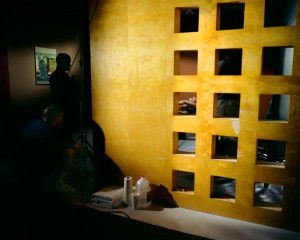 This ordinary scene, complete with the clutter of a roll of paper towels and a gallon jug of liquid, is dominated by a rich, golden light, adding an air of mystery to the photograph. In Sharon Wild, Sultan captures an actress in a moment of repose between takes. Sultan's contemplative portraits reveal the working actors behind the film characters in honest off-screen moments of hunger, ennui or fatigue.
Phillips says, "Larry Sultan's new work is visually stunning. Although nominally about the industry of adult sexual fantasy, the true subject of Sultan's pictures is how photography is used in the construction of that fantasy-and how it can also function as a critical tool to dismantle those same illusions. Sultan is a leading figure in the Bay Area art community, both as an artist and as a teacher, and we are proud to present his thoughtful work at SFMOMA again."
Raised in the San Fernando Valley, Larry Sultan studied at the San Francisco Art Institute, and though he has made Northern California his home, his work has consistently engaged the culture of Southern California. His first major work was a collaborative project with artist Mike Mandel, a book of appropriated photographs, Evidence, and a subsequent exhibition organized by SFMOMA in 1977. These pictures came from the files of government agencies, local corporations, and research institutions and, assembled in the narrative format of a book, produced a witty, provocative, and insightful look at contemporary American culture. In 1992 Sultan compiled the book and accompanying exhibition Pictures from Home, which approaches the meaning of family and home through the artist's own photographs, extensive diaristic writing, family artifacts, and stills from his parents' home movies. Like The Valley, the photos in Pictures from Home engage ideas of truth, fantasy, and artifice.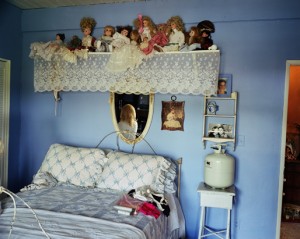 In conjunction with Larry Sultan: The Valley, SFMOMA's Education Department will present Staging Domesticity: The Making of Fiction, on Friday, May 28, 2004 at noon in the Koret Visitor Education Center Lecture Room. In this slide presentation and gallery tour, Terri Whitlock, a curatorial associate in SFMOMA's photography department, will discuss Sultan's exploration of the artifice of photography and the construction of middle-class suburban identity.
In addition, an Artist's Talk with Larry Sultan will be presented on Saturday, June 5, at 2 p.m. in the Wattis Theater, followed by a book signing in the MuseumStore at 3:30. Sultan will be signing copies of Larry Sultan: The Valley, available in hardcover.
Introductory text to the catalogue
Larry Sultan's most recent body of photographs, The Valley, examines the adult film industry's use of middle-class houses as stage sets. Sultan first gained access to these sets through an editorial assignment in 1999 and became intrigued by the idea of staging erotic fantasies in such banal circumstances. He does not focus on the sex acts themselves, but instead frames his photographs to include the surrounding architecture and the off-camera activities of the actors and crew.
Sultan lives and works in the Bay Area, but he was raised in the San Fernando Valley in a suburban tract home much like those pictured here. His last major project, Pictures from Home, took his own family as its subject and explored photography's role in creating a familial mythology. In this new series, Sultan turns to broader questions of domesticity. Glamorous stage lighting cannot conceal the almost unbearable ordinariness of these homes, with their knick-knacks and big-screen TVs, fine-art prints and dining room sets. His pictures beg the question: What is it about these houses and their middle-class decor that makes them suitable settings for projected sexual fantasies?
Although they are nominally about adult films, Sultan's pictures are also interrogations of the photographic medium itself. He shows how photography can create the illusion of fantasy, and then he uses his pictures to dismantle those same fictions. Lush backyards are exposed as mere painted backdrops; even the beautiful, sexually uninhibited porn stars seem less exotic and more familiar when seen between takes, waiting for makeup or instructions from the director-especially when Sultan catches the actors in moments of contemplation, boredom, and fatigue.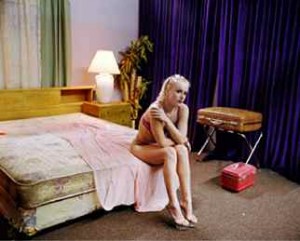 By showing us the places where illusion falls apart, Sultan also calls our attention to the act of looking. A reflection on a sliding glass door, a sofa standing between us and the actors, or a strategically placed vase are all reminders of our status as onlookers, or interlopers. In some cases these obstacles almost completely obscure the scene. Unlike pornography, which is designed to be immediate and uncomplicated, Sultan's images are complex. Sometimes humorous, sometimes erotic, they reward close examination.
Corey Keller, Assistant Curator of Photography, SFMOMA
Artist Statement
The cast and crew have gathered in the front yard of a ranch-style house, a few blocks from where I went to high school in the San Fernando Valley. Women in six-inch heels sink into the lawn; men push around camera equipment, anxious about losing the light. They are preparing to film a scene in which four blond housewives in a convertible are pursued and overtaken by two men in an appliance-repair van. In the golden afternoon light the neighbors have come out to water their lawns and witness the scene.
It is common for adult-film companies to shoot in tract houses — the homes of dentists and attorneys and day traders whose family photographs can be seen in the background, and whose decorating tastes give the films their particular look. It's as if one family went on vacation for a few days, leaving everything in the house intact, and another family, an odd assembly of unrelated adults, has temporarily taken up residence. While the film crew and talent are hard at work in the living room, I wander through the house peering into the lives of the people who live there. I feel like a forensic photographer searching out evidence.
In these films, lazy afternoons are interrupted not by noisy children but by the uncontrollable desires of delivery boys, baby sitters, coeds and cops. They crowd in the master bedrooms and spill out onto the patios and into the pools that look just like our neighbors' pools, like our pool. And by photographing this I'm planted squarely in the terrain of my own ambivalence — that rich and fertile field that stretches out between fascination and repulsion, desire and loss. I'm home again.