Our thanks to Aya Takada fro producing this text on Anders Petersen's Cafe Lehmitz which is featured here in both a Japanese and English translation. As well as checking out her website, you can follow Aya Takada on Twitter.
It is in the photo exhibition "Rat Hall Gallery" in Tokyo in 2007 that I first met Cafe Lehmitz. The first impression I saw reminded me of the book jacket from 'Weegee's people', the production and typography were splendid. However it is the latest Cafe Lehmitz by Schirmer/Mosel that exists in my hands now.
If the book is opened, it is possible to put your own body to Cafe Lehmitz.
"It seems this is not work that a young person produced."
There are times when you hear that kind of opinion, but on the other hand, it is through a young photographers eyes that this very pure and straight style could emerge. It seems like a conventional approach was chosen, simple and lacking in sensational images with a rustic feel.  The work is not dissimilar to that of Daido Moriyama in this respect.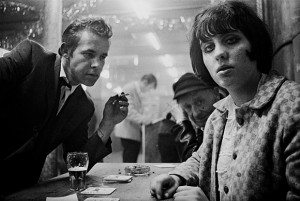 The characters are seen not as supportive as if the heart and mind, body and mutual support the body, sometimes they show a winsome look for the photographer, and
with each passing page, the subjects seems gradually to release themselves to Petersen. I feel a deep affection for the subject from the photographer.
I feel a line of vision near the sense that parents watch the child in a word to which family's photo album is concluded. This will be able to be seen from the portrait of the photographer in the back book cover. The family is indispensable for Cafe Lehmitz.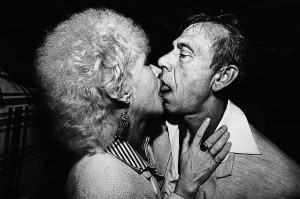 You might also understand the reason why this book keeps being resold as many as ten times, and being loved well.
Cafe Lehmitz is one book that a young photographer must see.
– Aya Takada
わたしが、Cafe Lehmitzに出会ったのは、
2007年東京のラットホールギャラリーで行われた写真展です。
ここから出版されたCafe Lehmitzの最初の印象はまさしく「日記帳」でした。
「Weegee's People」のブックジャケットと似たタイポグラフィーを使った見事な演出。
しかし、現在、私の手の中にあるCafe Lehmitzは、「schimer/mosel」の最新版です。
中身を開けば、Cafe Lehmitzへ自分の身を置く事が可能です。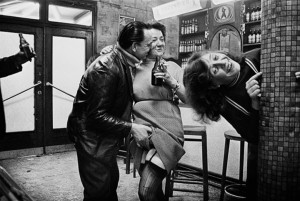 「青年の撮影した写真ではないようだ。」
そのような意見を屢々聞くことがありますが、むしろ、まだ写真を始めて間もない若い写真家であるから完成できた作品群であると感じます。
とても純粋でありストレートな写真が多く見られます。
それは、写真の古典的なスタイルのようです。
センセーショナルな印象は少なく、とても素朴さを感じます。
森山大道に代表されるような(または筆者の後期の作品郡に近いような)、撮影時や暗室内での「マジック」をこの本で見ることはありません。
写っている人々は心と心を支え合うようかのように、肉体と肉体を支え合い、時折、写真家に対して愛嬌のある表情を見せることもあります。
ページを追うごとに、徐々に被写体は写真家に心を解放しているように見えます。
撮影者から被写体に対しての深い愛情を感じます.。
家族のフォトアルバムが完結されたような、つまり親が子を見守るような感覚というものに近い目線を感じます。
したがって、背表紙の著者のポートレートは、この本になくてはならない一枚であるように思えます。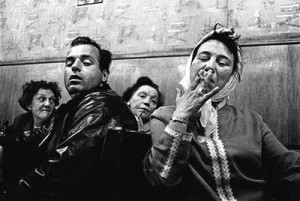 皆さんも、この本が10回も再販され、愛され続けている理由がよく分かるでしょう。
若い写真家にぜひ見て欲しい一冊です。
高田 彰