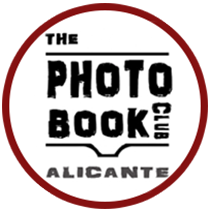 The Photobook Club Alicante, founded by Jose Carlos Robles, will launch on the 14th October to coincide with World Photobook Day! The club already has a great website found here and can also be found on facebook here.
Below is a message from Jose for those who are in the area and might be of interest:
Primero fue Niepce, después llegaron Daguerre , Bayard y Henry Fox Talbot. Sin embargo, hay un momento en la historia y una ilustre protagonista que a menudo queda en el olvido. El 14 de octubre de 1843, Anna Atkins, publicó "British Algae", una publicación que puede ser considerada como el primer fotolibro conocido y al que con frecuencia le disputa el honor "Pencil of Nature" de H. Fox Talbot.
Según el catálogo de la British Library , parece que la duda queda despejada en favor de Atkins.
http://www.bl.uk/catalogues/photographyinbooks/record.asp?RecordID=3048
Hemos elegido la fecha del 170 aniversario para el lanzamiento de PHOTOBOOK CLUB ALICANTE, y para ello rendiremos justo reconocimiento a la autora británica por su pionera aportación. Con ello no hacemos más que adherirnos a otras iniciativas que rememoran el hecho.
http://photobookday.wordpress.com/about/
¿CUÁNDO?  El día 14 de Octubre a las 19:00 horas
¿DÓNDE? Pendiente de confirmación
IMPORTANTE
No olvides reservar tu plaza por mail a photobookclubalicante@gmail.com y por supuesto traer tú libro. Y si alguien tiene un ejemplar de la obra de ATKINS (difícil lo veo) sería fabuloso.
Queremos destacar también que el Photobook Club de Madrid  ha sido pionero en su propuesta en este sentido y desde aquí queremos compartirlo y felicitarles por ello. (Photobook Club Madrid – October 14th, #PhotoBookDay)
Más información sobre Atkins: