On October 14th you might find your local PBC branch holding a special meeting to mark the birth of the photobook back in 1843. If you do not live in a city with a PBC, why not grab that book that you bought last year and haven't really spent any time with yet, pull it off the shelf and sit down for half an hour of photobook investigation.
Share your images of you and your book, or any musings on the photobook with the hashtag #PhotoBookDay and head over to www.photobookday.wordpress.com to see what others are doing.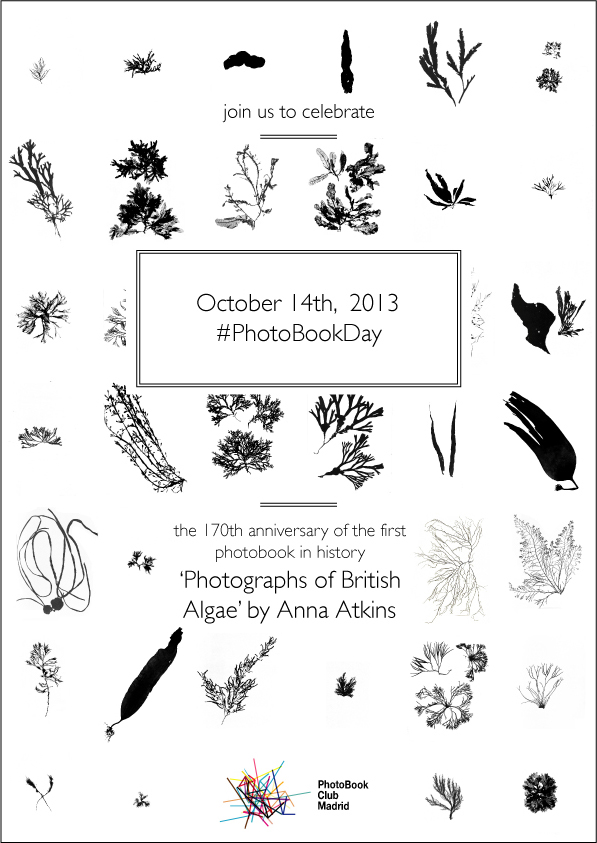 What follows is a message from the Photobook Club Madrid:
Dear friends:
On 14 October is International Day of the photobook. This date is a direct homage to the first photobook known: Photographs of British algae. Cyanotype impressions of Anna Atkins. Since we do not know the date of publication, we have taken the date of entry in the catalog the copies for the British Library:
http://www.bl.uk/catalogues/photographyinbooks/record.asp?RecordID=3048
This year marks the 170th anniversary of that date and we'd love you to join this celebration and turn that day into a global event organizing an event related to the Photobook in your respective cities.
Not much time to organize large activities, so as usual in the PhotoBook Club Madrid we will opt for organizing something accessible to anyone who wants to participate.
We propose – as a global activity to develop through facebook, twitter, instagram, etc. – Share a photo of a photobook using the hashtag # PhotoBookDay. Organize any other activity that you consider appropriate to celebrate the day. let us know to share .
Celebrate the photobook, born in 1843.