Here is the third teaser from an extended piece of writing by Kurt Easterwood of Japan Exposures. Kurt has produced a fantastic deconstruction and analysis of Shore's 'West Fifteenth St. and Vine St., Cincinnati, Ohio, May 1, 1974' featured in  'Uncommon Places, The Complete Works'. The image in question can be seen on the right hand side of the image below and you can find the full PDF underneath the image or right here.
In this installation Kurt looks at Shore's presence in the scene itself….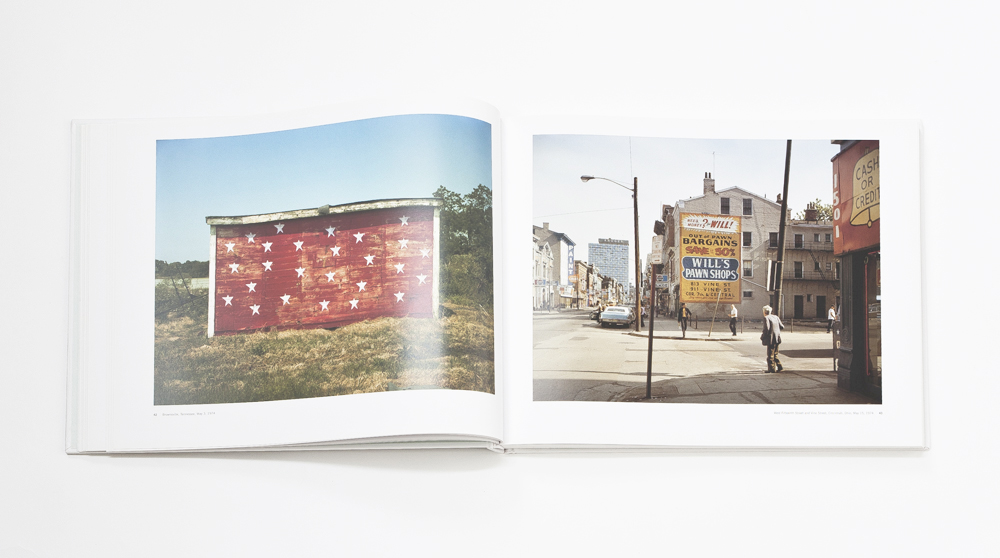 PDF – Kurt Easterwood on 'West Fifteenth'
As our last stop on this exploratory journey, a final sightseeing viewpoint as it were, let's ponder for a moment one more spot at the corner of Vine and Fifteenth, the spot Shore placed his tripod and set up his view camera to capture this scene. Shore's presence, and the position of his tripod and camera, is referred to, if not exactly reflected in Lee Friedlander-like fashion, by the out of focus "Bus Stop: No Standing" sign that could be nowhere else but directly in front of where Shore was standing. We smile at the sign like we do at other occasional ironical signage in Uncommon Places — e.g. "MECCA" (p. 129) or "John F. Kennedy said: "ART IS TRUTH"" (P. 133) — as if Shore were thumbing his nose at the municipal establishment that would deign to tell him where he could or could not stand his tripod.
PDF – Kurt Easterwood on 'West Fifteenth'
The Photographer's Presence
But telling people where they can or cannot stand in the form of municipal anti-loitering ordinances has long been a tactic used by city governments and police forces to exert undue control over citizens in lower-income areas. Three years before Shore took his photo, the U.S. Supreme Court had struck down Cincinnati's own anti-loitering ordinance as unconstitutional. The ordinance had held that "It shall be unlawful for three or more persons to assemble, except at a public meeting of citizens, on any of the sidewalks, street corners, vacant lots, or mouths of alleys, and there conduct themselves in a manner annoying to persons passing by, or occupants of adjacent buildings." In a footnote to his opinion, Supreme Court Justice Potter Stewart wrote that, "The alleged discriminatory enforcement of this ordinance figured prominently in the background of the serious civil disturbances that took place in Cincinnati in June 1967," by which he was referring to race riots in the Cincinnati neighborhood of Avondale that spread over into Over-the-Rhine.
The sign can then be read not just as a joke of Shore's own making, but as an ironic and not necessarily unintentional questioning of Shore's right to be there, assembling these elements in a manner annoying to persons passing by, "an alien element impeding the activity on the street."  READ MORE
– Kurt Easterwood