The second teaser from an extended piece of writing by Kurt Easterwood of the awesome Japan Exposures. Kurt has produced a fantastic deconstruction and analysis of Shore's 'West Fifteenth St. and Vine St., Cincinnati, Ohio, May 1, 1974′ featured in  'Uncommon Places, The Complete Works'. The image in question can be seen on the right hand side of the image below and you can find the full PDF underneath the image or right here.

A huge thank you to Kurt for opening this great piece of writing up to the Photo Book Club community.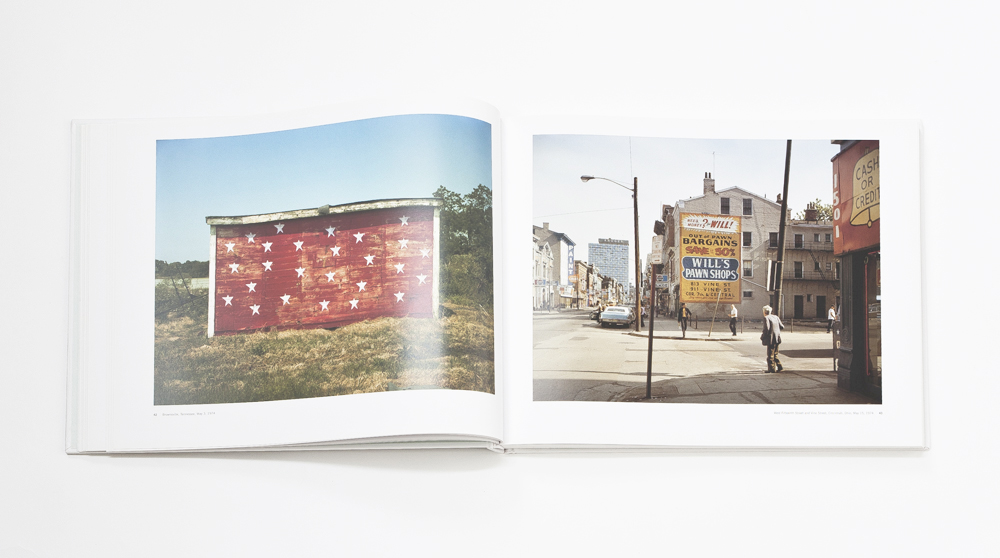 PDF – Kurt Easterwood on 'West Fifteenth'
History
Fifteenth and Vine is in Cincinnati's Over-the-Rhine (or OTR) neighborhood, one of the oldest parts of the city. It came to prominence — and indeed acquired its name — from the many German immigrants who worked there in the 1800s and later settled in the area and built many of the homes and buildings that stand to this day. By the turn of the century, Cincinnati, along with cities like Milwaukee and St. Louis, was home to one of the largest Germany immigrant communities in the United States. However, while already in a long, slow decline in the first half of the 20th century — in particular, its many breweries were hit hard by Prohibition — OTR's fortunes declined rapidly after World War II as so-called "white flight" began to take hold, with residents moving to outlying suburbs and retail businesses following them shortly thereafter. The deteriorating structures became a source of cheap housing for a successive wave of first poor whites from Appalachia and then African Americans displaced from the historically black neighborhood of West End that had been demolished in part by the construction of an expressway — an expressway that if not a literal escape route was at least a figurative thoroughfare that helped pave the way for whites' exodus to suburbia.
At the time when Shore took his photograph, the population of OTR was only around 15,000, a significant drop from a population of 45,000 in 1900. One-third of these remaining residents were African American. By 1990, less than 10,000 people lived in the area, 71% of them African American. 5 In 2001, Vine Street and the surrounding areas were the scenes of a race riot when an African American teenager was shot and killed by a member of the overwhelmingly white Cincinnati police force. As of this writing, Vine Street and various other places in OTR are part of a massive urban renewal project, and indeed most of the land and buildings in the 1400 block of Vine Street, which comprises much of Shore's photo, are now owned by a tax-exempt, private, non-profit corporation called The Cincinnati Center City Development Corp., or 3CDC, which has renovated or is in the process of renovating the structures for loft apartments or retail spaces. READ MORE
– Kurt Easterwood