Title
The Valley
Author
Larry Sultan
Publisher
Scalo Publishers, 2005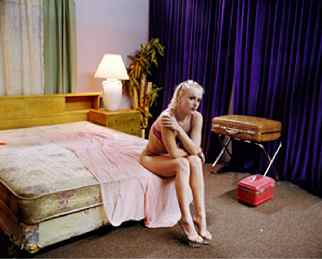 From the publisher:
Since 1988, Larry Sultan has returned time and again to photograph on porn sets in Los Angeles's San Fernando Valley–the Silicon(e) Valley of the porn industry. But The Valley is by no means a documentary on porn filmmaking. Rather, it is a dense series of pictures of middle-class homes invaded by the porn industry. Sultan's lens focuses on pedestrian details–a piece of half-eaten pie, dirty linens in a heap, "actors" taking a break–that offer clues to a bizarre other-world. The lush and intricate images adroitly play with artifice and reality, adding up to rich, elliptical narratives that circle around the concepts of "home" and "desire."
These images of homes and gardens, porn actors and film crews, studio and location shootings are an ambiguous meditation on suburbia and its trappings, family and transgression, loss and desire, the utopias and dystopias of middle-class lifestyle. The Valley and its many-layered photographs outline the complexity of domestic life at the beginning of the 21st century, opening up new perspectives for photography through its innovative combination of staged and documentary photographs. In 1998, an English magazine asked me to go on a porn set. After the first five minutes of the strangeness of it all, I started to look around, going to the bedrooms, wandering through the house. It felt like a permission to go into a house in L.A. and to imagine how someone would live their life in this house. I made the pictures for the magazine. I left and thought, "This is it, this is what I have to do." –Larry Sultan
Resources:
Unfortunately it is not easy to find a collection of the images from 'The Valley' in one place. Quite a few however can be found at Sultan's agent Bill Charles' website HERE, HERE and HERE

The text by Sultan, from 'The Valley', along with some images from the series can be found on American Suburb X here.
Text, Artist statement and interview from the SFMoMA exhibition can be found here