Stan Banos of the fantastic Reciprocity Failure blog submitted the following piece on Richard's 'Cocaine True, Cocaine Blue'.
When published in 1994, Cocaine True, Cocaine Blue was perhaps the last great photographic shock documentary, and brought with it considerable controversy for depicting a certain segment of society in such a negative, nihilistic manner. My younger self very much believed in the power of those raw, stark, in your face images- believed they were exactly what was needed to expose the crack and heroin scourge that was consuming inner cities across the country, and ultimately help reform a national drug policy long bereft of any possible rehabilitative or positive consequence.
And, of course… nothing happened.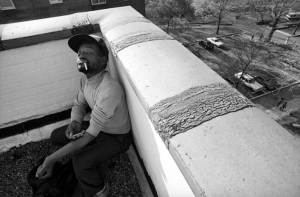 In the interim, photojournalism has struggled to redefine and reestablish itself in a declining market, and reinvent itself in a new medium, via new technology. And yet the problem remains- critics clamoring for a new visual paradigm in photographic story telling, particularly, a new vision of depicting tragedy, hardship and conflict in a way that can command and engage our attention with those we may not encounter in our everyday lives. No short order in these austere and somber economic times when so many of us are simply striving to survive- or escape.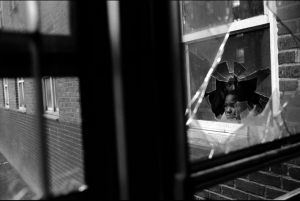 Eugene Richards never struck me as the kind of man, or photographer, who was strictly out to shock. The images in Cocaine True, Cocaine Blue have an almost apocalyptic sense of urgency in their madness and desperation, and as only a master photographer can envision and present, many of those same images are also maddeningly beautiful, not unlike the "darker" masterpieces of the Renaissance. His photographs seemed hell bent on rattling you to the very core, so that even if you turned away, they would still unnerve you, haunt you, have at you until you finally removed yourself from your comfort zone and entered their twisted netherworld of existence- the very madness addiction demands.
Obviously, I can't speak for him, but I don't think it would be the kind of book Mr. Richards would do today. If anything, his current work is more reflective, more contemplative. The Blue Room  meticulously examines the domestic remains of those forced to abandon their points of origin, and his recent work with disabled vets, while containing many an unsettling and disturbing image, portrays subjects who could well be family members, neighbors, friends. We get to feel the main players out, get to know their stories, their lives- before, and after.
Although the characters get to speak out in Cocaine True, Cocaine Blue, their voices are lost within the insanity that overwhelms their lives and the numerous black and white enlargements that predominate the book itself. Powerful and significant as it was, perhaps that was the one key and vital ingredient that Cocaine True, Cocaine Blue so woefully lacked- we never connected with the individuals depicted, in fact, it was hard to even think of them as individuals! They were ghosts of former selves not even they would fully recognize, beings seemingly beyond redemption, beyond human connection, and well beyond our empathy…