The following is John Edwin Mason's response to the post 'Controversy: Cocaine True, Cocaine Blue'
I'm generally sympathetic to Brent Staple's critique of "Cocaine True, Cocaine Blue" (now, as I was in 1994). He's right to insist that the book can't be properly evaluated without situating it within a society and culture that has been shaped, consciously and unconsciously, by racist ideologies and practices. It does seem to me, however, that the general thrust of his argument misses the most essential point.
Yes, it's a problem that the faces in the book are overwhelmingly black and brown, although the cocaine problem — contra Richard's self-defense — wasn't confined to African-American and Latino communities. Drug use by whites may have been hidden — harder to see and to photograph because of the defenses that social class and racial privilege can erect — but it was a major element in the crisis of the mid-90s. Richards (and the writer Edward Barnes, with whom he worked) certainly should have foregrounded this fact. Not to do so was to reinforce ever-prevalent racist stereotypes about who uses illegal drugs and who doesn't.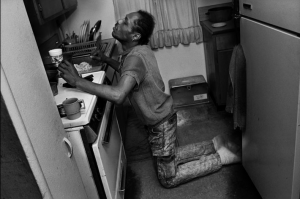 Staples alludes to, but does not develop, a much more important critique when he says that "Photographs can shock and dismay, but are useless to explain such complicated matters as economic decline [which underpinned the demand for drugs]." This is the heart of the matter.
Photographs, as every theorist and most photographers will tell you, are very good at showing us how things look, but very bad at explaining why they look that way. Documentary work, however, must be as much about the "why" as the "how." Pretty pictures, scorching pictures, gut-wrenching pictures aren't enough. Context and analysis are just as important. And this is where Richards fails utterly. Or, perhaps, "fails" is the wrong word. He doesn't even try.
I'm tempted to say that it was rashly irresponsible for Richards to have published the book without attempting to explain the crisis he captured in his images. This was not, after all, an exercise in fine art photography. It's documentary, and its purpose is to help us to understand the world in which we live.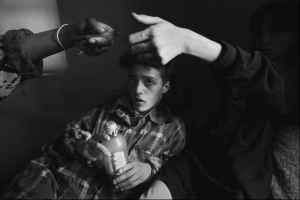 Instead, I fear, many readers came (and come) away knowing less about the drug crisis, rather than more. In the absence of analysis and explanation from Richards, many people would have fallen back on ideas already circulating in the culture. A great many — not all — of those notions would have been deeply racist.
It's not so much that Richards' images are decontextualized, it's that their context would too often have been America's reflexively racist culture, rather than its history and political-economy. As a result, the photos reinforce, rather than undermine, stereotypes of black and Latino depravity and criminality.