Kurt Easterwood of the awesome Japan Exposures has produced an extended piece of writing on one of Shore's images featured in 'Uncommon Places, The Complete Works'. The image in question can be seen on the right hand side of the image below and as well as finding the full PDF underneath the image or right here, this is the first post also featuring an extraction from the full article, this time an extended introduction to the full article.

A huge thank you to Kurt for opening this great piece of writing up to the Photo Book Club community.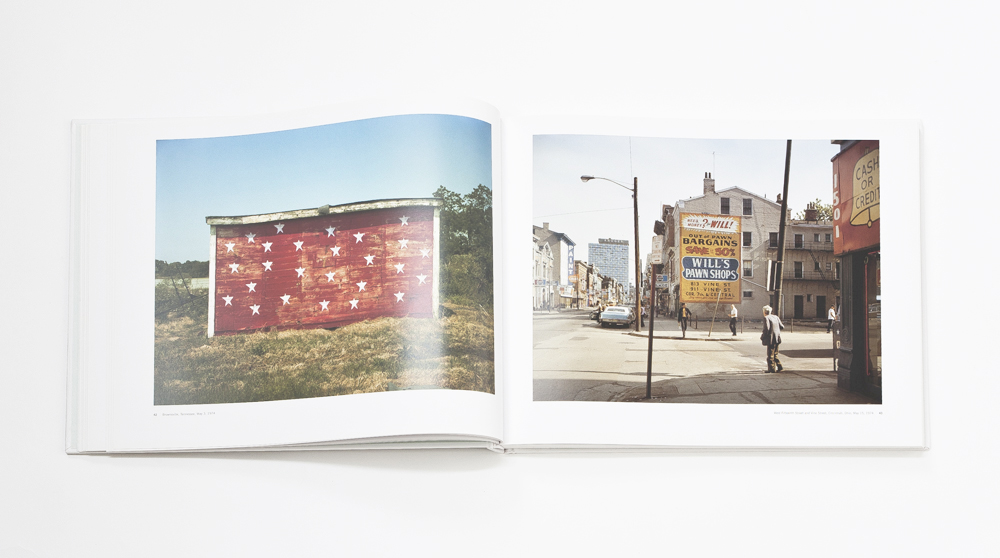 PDF – Kurt Easterwood on 'West Fifteenth'
An Extended Introduction
I would like to explore Uncommon Places: The Complete Works by looking at a single photo, a photo that like all the photos of Uncommon Places can only be referred to by its caption, "West Fifteenth St. and Vine St., Cincinnati, Ohio, May 1, 1974", which appears on page 43. This photo was not included in the original publication, and while it would certainly be a useful exercise to discuss why not, I would rather take Shore's inclusion of the photo in the revised edition to mean that for him the photograph is an important part of the complete work.
It is tempting to be self-deprecating on the photograph's behalf and acknowledge that it's true there is nothing particularly compelling about this photo that would cause it to stand out in relation to the other photographs in the book, but saying that would imply that Uncommon Places: The Complete Works contains stand-out photographs. It does not, which is precisely why it is such a wonderful book to look at. The power of Uncommon Places is not the sort where each turn of the page knocks us back into a sublime revelry. Its power rather results from an accumulation of what Gerry Badger has called "quiet" photographs 3, and it is this quiet tone that allows us, if we are so willing, to journey along with Shore, and occasionally to step off and linger a bit at stops along the way, to explore further.
Several years ago when I got my copy of Uncommon Places: The Complete Works, this ordinary, dare I say nondescript, photograph taken in Cincinnati, Ohio in 1974 caused me to dwell and ponder a bit longer than the others. For personal reasons (I had a suspicion I had once been on this section of Vine street during a visit to Cincinnati in 1987), and for graphic, visual reasons (there was something in the denseness of the signage on the left side of the photo, and a single, dominant sign on the right side that visually appealed to me), I felt compelled to explore the photo further. What follows is an account of this one stop on Shore's larger journey — my journey within a journey, we could say — and what I found at West Fifteenth and Vine in Cincinnati. READ MORE
– Kurt Easterwood