At the age of 17, Richard Avedon (1923-2004) joined the merchant marine's photographic section in 1940, where he would spend much of his time producing personnel identification photographs, and occasionally document shipwrecks. Following his discharge from service in 1944, Avedon found a job as a photographer in a New York department store, before Alexey Brodovitch — who Avedon had studied under in his Design Laboratory at the New School of Social Research — hired the 22 year-old as a staff photographer at Harper's Bazaar in 1945, where he would be the youngest member of the Russian emigres team.
This appointment would mark the beginning of the creative collaboration between the
inspirational art director, who did much to introduce modern graphic design aesthetics, and modernist European photography to the United States, and the photographer, that
culminated in the publication of ʻObservations' in 1959.

One of the characteristic's of Brodovitch's design style, was his use of white space on the
editorial pages of Harper's Bazaar and his other projects, including ʻPortfolio,' and this
influence is seen in Avedon's photography when he adopted the seamless white background in his fashion photography, for which he first became known, and latterly his
portrait work to.
Throughout his career, Avedon was a restless chronicler of our time, that led John Lahr to
write in ʻThe Times,' ʻNo one has given a nation a more wide-ranging, disciplined
photographic document of itself,' which is well reflected in the 150 pages that make up
ʻObservations' which includes portraits of Charlie Chaplin, John Huston, Alfred Hitchcock, The Duke and Duchess of Windsor, Arthur Miller, Picasso, Jacques Cousteau, Marilyn Monroe, Mae West, Judy Garland, Igor Stravinsky, Katherine Hepburn, Brigitte Bardot, Gloria Swanson, Louis Armstrong, Humphrey Bogart, Buster Keaton, Georgia O'Keefe, Frank Lloyd Wright, and Truman Capote, amongst many other key people of the 20th century.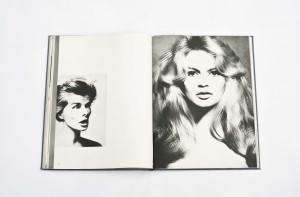 A remark made by Avedon in the 1970s reflects this restless nature, ʻIf a day goes by
without my doing something related to photography, it's as though I've neglected
something essential to my existence, as though I had forgotten to wake up.'
For a photographer to produce during their career more than one exceptional book — a
volume that sets new standards — is a rarity, Avedon is one of those exceptions. In 1964,
he collaborated with the writer James Baldwin, to create ʻNothing Personal' (Atheneum),
which was designed by art director Marvin Israel (a good friend of Diane Arbus), and whilst ʻNothing Personal' isn't quite of the standard of ʻObservations,' it signalled Avedon's commitment to the book format, and in 1985, he published his sixth book, ʻIn the American West 1979-1984,' (Harry N. Abrams) designed by Elizabeth Avedon, who also produced ʻPortraits' (Farrar, Straus, Giroux, 1976) and ʻPhotographs 1947-1977' (Farrar, Straus, Giroux, 1978).
ʻObservations' is unquestionably a beautifully conceived work of great importance, and as I mentioned earlier in the month, is included in Andrew Roth's superb reference ʻThe Book of 101 Books: Seminal Photographic Books of the 20th Century (PPP Editions, 2001), but ʻIn the American West 1979-1984,' is Avedon's second great masterpiece.
Wayne Ford