A note…
This month's book 'Observations' is not easily accessible in your local library, nor is it affordable to most. But we consider it to be more than worthy of a Photo Book Club discussion, and so next week we will post a video looking through the book, making sure this incredible book is available to view by as many fans as possible!

Title
Observations
Author
Richard Avedon, with comments by Truman Capote
Publisher
Simon & Schuster, 1959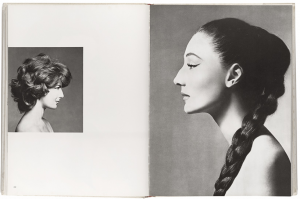 Overview
Like Robert Frank's 'The Americans,' which we discussed last month in the Photo Book Club, American photographer Richard Avedon's first book, 'Observations,' was published in 1959. And, like 'The Americans' it was included in Andrew Roth's 'The Book of 101 Books: Seminal Photographic Books of the 20th Century (PPP Editions, 2001), now itself a seminal work on the history of the photographic book.
Having begun to take photographs during the Second World War, where he served in the Merchant Marine, Avedon became chief photographer of 'Harper's Bazaar' in the late 1940s, where he helped redefine and elevate fashion photography to an art form, frequently taking his models out of the studio.
But Avedon's first book did not focus on his fashion work, but on his iconic and penetrating portraits. In the 150 pages that form 'Observations,' with comments by the great American writer Truman Capote, we encounter the likes of Charlie Chaplin, John Huston, Alfred Hitchcock, The Duke and Duchess of Windsor, Arthur Miller, Pablo Picasso, Marilyn Monroe, Mae West, Judy Garland, Igor Stravinsky, Katherine Hepburn, Brigitte Bardot, Louis Armstrong, Humphrey Bogart, Buster Keaton, and many others.
Reflecting upon Avedon's oeuvre, Maria Morris Hambourg recently wrote 'By dint of progressive challenges to himself, Richard Avedon has not only distilled photographic portraiture to its irreducible core, but has also produced an extended meditation on life, death, art, and identity. Laureate of the invisible reflected in physiognomy, Avedon has become our poet of portraiture.'
Wayne Ford
Get involved
Let us know your thoughts by using the hashtag #photobc in Twitter or share links and blog posts in to comment section below.
Coming next…
Next week we will post a video, showing the book in all it's glory to those who do not own, or have access to a copy (which is most of us!)